Almond Flour Pizza Crust Recipe
Low carb almond crust pizza you can enjoy at home.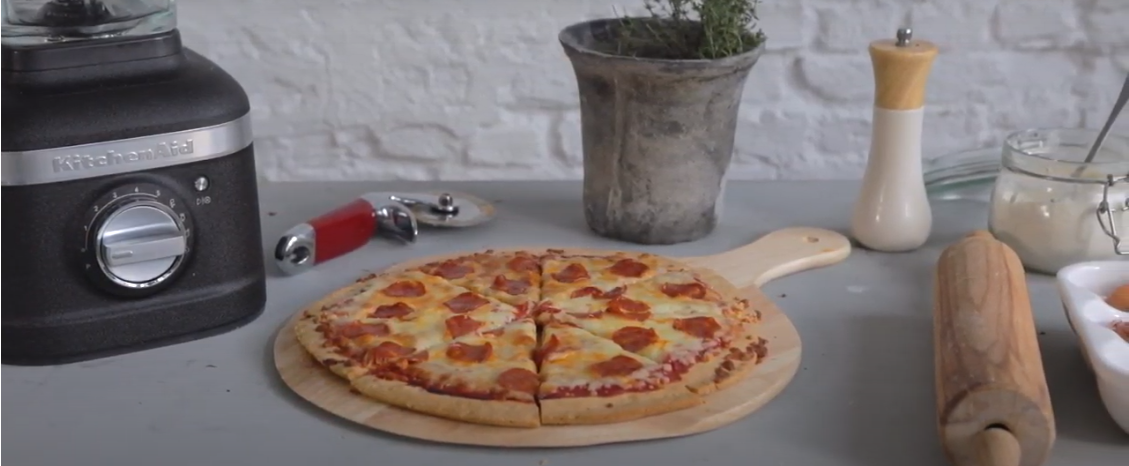 Makes : 4 servings
Preparing Time : 15 minutes
Ingredients
6 sprigs fresh thyme
6 eggs
1 teaspoon baking powder
1 teaspoon black pepper
300 g mozzarella, shredded
430 g almonds, blanched
50 g olive oil
4 tablespoons flour
1 teaspoon salt
100 g tomato sauce
100 g pepperoni
Method
Add the almonds and the thyme to the KitchenAid Power blender, mix on speed 5 until the almonds have pulverised into flour.
Put the olive oil and eggs into a bowl of a stand mixer fitted with the Wire Whip. Mix on speed 4 for 1 minute. Set aside.
In a different bowl, add the almond flour, flour, baking powder, salt and black pepper. Attach the Flat Beater to the stand mixer and mix on speed 4.
Gently stream in the oil mixture. Mix until a dough has formed. Put the ball of dough onto a sheet of baking paper. Brush the top of the dough with some olive oil. Cover with a second sheet of baking paper.
Roll out the dough. Trim the edges if necessary and transfer to a baking tray. Bake for 10 minutes in a 180°C preheated oven.
Spread the tomato sauce over the pizza, sprinkle the cheese over the crust and top off with the pepperoni. Bake for 10 minutes on 180°C until the cheese starts to brown.
Discover recipes just for you
Join our community of passionate cooks for news, recipes and endless inspiration.
Get exclusive offers on KitchenAid® appliances
Looking to save on great appliances? KitchenAid offers promotions on both large and small kitchen essentials so you can get top quality for less.
Plan your visit

Visit the KitchenAid Experience® Retail Center and discover what makes the KitchenAid Brand a special one.