Chef Knife
Sorry, there are no products available with this criteria.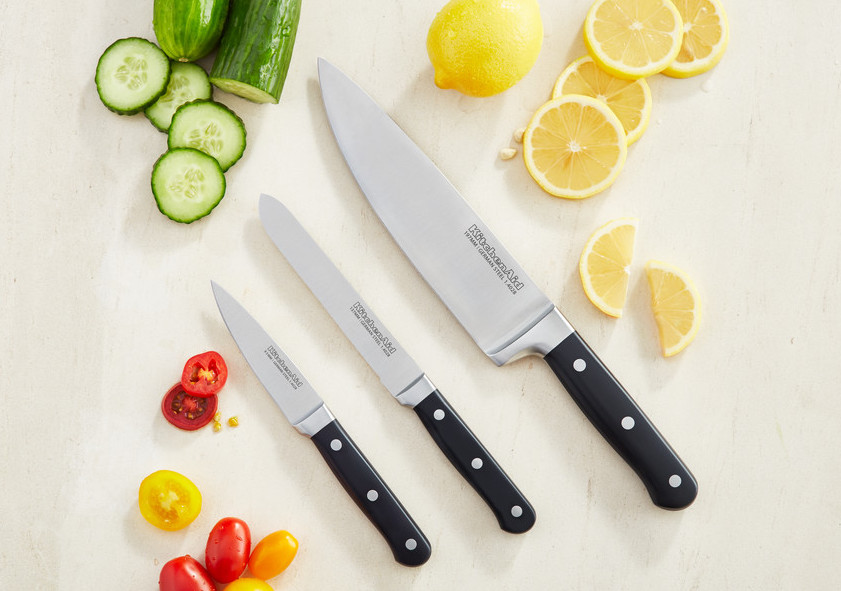 KITCHEN ESSENTIAL: KNIFE SET
A good set of kitchen knives is extremely essential in any good cook's kitchen. KitchenAid range of Kitchen Cutlery therefore, comes with a well-rounded range so that the maker in you can find everything that you are looking for.
GET THE PERFECT CUT
The KitchenAid Professional Cutlery Designer Knife Block Set makes sure that you deliver quality no matter any way you decide to slice it. It is KitchenAid's first die cast cutlery block, made available in contemporary, bold and stunning painted colors so that it matches your personality perfectly. This original and modern style statement is the perfect knife block set for any kitchen.
SHARP BLADE FOR YOUR KITCHEN ADVENTURES
The KitchenAid range is well-known for the IceTemp Hardened Blade for the ultimate cutlery experience. Ice hardening means the molecular structure of each blade is decisively reinforced for uncompromising durability, flexibility and edge-to-edge performance. It also means each knife remains razor sharp and resistant to breakage.
BLADES MADE TO LAST
Another feather in the hat of well-rounded cutlery is the German Steel Blades. Our Chef, Slicer, Utility, Santoku, and Paring cutlery are made of high-grade, high carbon German 1.4028 Stainless Steel, giving these knives an exceptional and enduring razor sharp edge with long life durability.
CHOP LIKE A CHEF
All the qualities of our beautifully sharp and efficient cutlery ensures that you can cut, slice and chop like a pro with our collection of kitchen knife block sets. Quality cutlery is vital to successful cooking. Whether you're looking for individual kitchen knives or a complete knife block set, be sure to find what you're looking for at KitchenAid.