Kitchen Gadgets
Sorry, there are no products available with this criteria.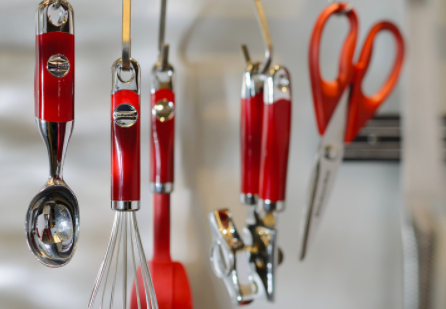 STOCK YOUR KITCHEN WITH ALL THE ESSENTIALS
A well-stocked kitchen is one which has every tool that a cook might need. KitchenAid range of kitchen tools and gadgets were designed keeping the maker in mind and has everything that a true cook would need.
PRACTICAL, SILICONE TONGS
The first tool in the repertoire is the KitchenAid Stainless Steel Silicone-Tipped Tongs that are heat resistant up to 235 degrees celsius. The tongs collapse and lock for convenient storage in your kitchen drawer or countertop holder. Dishwasher safe.
STRAIN THE BAD, KEEP THE GOOD
Next, we have the Stainless Steel 7 Inch Strainer that features an oval shaped head that is perfect for scooping and straining vegetables and noodles. This strainer can be easily used to get hard-boiled eggs out of boiling water or removing food items from hot oil. The length of the handle assures one's hand won't be anywhere near the heat. A convenient hanging hole ensures space-saving storage. Dishwasher safe for quick and easy clean up.
THE PASTRY BRUSH EVERYONE NEEDS
Use this flexible and easily cleaned KitchenAid Pastry Brush for basting phyllo dough with butter, breads with egg wash, ham with glaze and so on. Dishwasher Safe.
OPENING CANS WITH EASY
Remove the top off any size can effortlessly, every time using the KitchenAid Can Opener with an oversized knob. The high carbon stainless steel blades ensure long lasting durability, making this a product you will use for years to come in the kitchen. Hand wash only.
FOR PERFECT WHISKING
Go from blending, whipping to beating anything you want. Make sauces, scrambled eggs, home-made mayonnaise and more by using the KitchenAid Utility Whisk with stainless steel wires.
Find this and more at the KitchenAid store!