ALL KETTLES
Sorry, there are no products available with this criteria.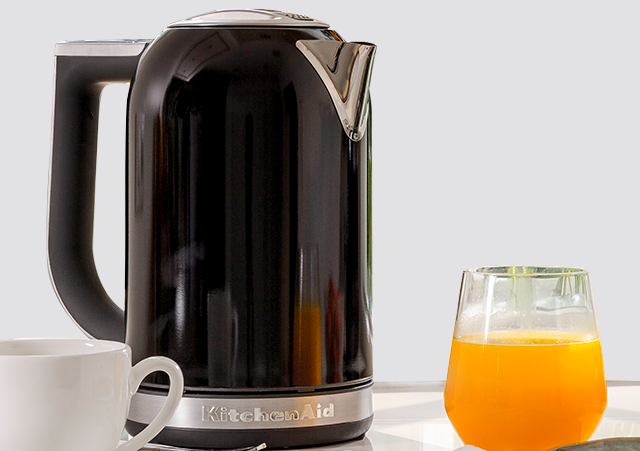 KETTLES FOR HEAVENLY BREWS
A kettle is a kitchen essential that everyone needs to have in their kitchen space. KitchenAid brings to you a range of dynamic electric kettles and come in varied colours, capacity and models so that you can choose the one that perfectly fits your personality.
BRING CAFE HOME
Whether you want to brew your favorite artisan beverages or enjoy creating your own specialty drinks; whether you want to enjoy a cup of black tea, spiced tea or herb tea, we have got the perfect kettle for you! From variable temperature settings to precision pouring, KitchenAid has traditional or electric kettles to bring the cafe to your kitchen.
DYNAMIC 1.25L ELECTRIC KETTLE
Our 1.25L Electric Kettle is stylish yet compact. It expertly makes your beverages and comes with a glass top so that you can monitor your brews every step of the way.
FOR ARTISAN BEVERAGES
The 1.5L Pro Line Electric Series Kettle was created . It was created for makers who believe in stylish yet effective brewing. The kettle effectively boils water in minutes and is the quietest electric kettle there is.The variable temperature control allows you to select the exact temperature you desire to help you achieve optimal results. The dual wall construction helps keep the water temperature hotter for longer, while keeping the outside of the kettle cool to the touch.
UNIQUELY FUNCTIONAL
Next in the range is the dynamic 1.7L Electric Kettle-- expect exceptional performance thanks to the variable temperature settings and 30 minutes hold temperature feature, a sleek modern shape and soft grip handle. This stylish and chic addition will enhance any kitchen space.
Elevate your kitchen space with our effectively stylish and functional range of KItchenAid electric kettles!