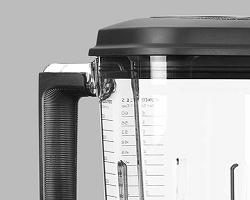 2.6 L BPA-Free Jar with Ingredient Measuring Cap
Easily measure and add ingredients while blending: the removable ingredient measuring cap allows you to add ingredients while blending to get the perferct recipe.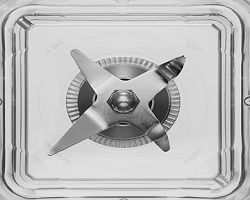 Powerful 3.5 Peak HP Motor
Our Power Blender quickly and easily blends everything, creating fruit and vegetable smoothies, silky and smooth soups, juices, nut butters, dressings and more.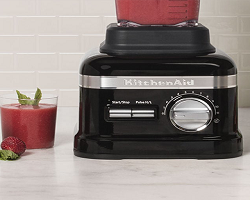 Optimum Speed for Flawless Results
The Power Blender offers continuous variable speed control, from low to high speeds, to meet all recipe's specific needs.

Blenders and juicers differ greatly. To understand more about which is used for what, we have a short explanation below. Both can process fruits into a nutritious drink, but the result is very different. Take a look:

A juicer separates the fibre from the rest of the fruit or vegetables. This leaves only the juice to drink and the remaining pulp is discarded. You will be able to pack more fruit and veggies into your drink and they will be easily digestible.

 A blender  processes the entire fruit or vegetable and will create thicker drinks such as smoothies. This takes longer to digest and will keep you feeling full and satisfied.
Smoothies can replace an entire meal and are easy for on-the-go lifestyles.
Healthy Meals with KitchenAid Blender:
Different Texture Different Recipes


FIND THE BEST BLENDER FOR YOU.
Diamond Blender
KitchenAid Diamond Blender, with an exclusive diamond blending system, allows you to crush ice cubes, puree soft fruits or blend extra-thick milkshakes with equal ease and efficiency.
0.9 HP Motor
1.75L BPA-Free Jar
5 speeds
2,000 to 11,500 Motor RPM

Soft Start
Power Blender
KitchenAid Artisan Power Blender is built for convenience with features such as variable speeds, PULSE and BOOST that gives you better control over the consistency of your blending.
3.5 Peak HP Motor**
2.6L BPA-Free Jar
11 speeds
1,000 to 24,000 Motor RPM

Soft Start
KitchenAid Blenders
Welcome to KitchenAid's family of kitchen blenders! KitchenAid has created a range of kitchen stand blenders by keeping the needs of true makers in mind. Whether you want to blend, puree, grind or crush, these KitchenAid stand blenders will ensure that you experience the best of texture and taste.
There are few kitchen tools as versatile and useful as a blender, a culinary essential with the ability to liquefy, puree, mix, and chop at just a press of a button. But just as no two kitchens or cooks are the same, blenders also come in a variety of sizes and options to be sorted through.
Introducing you to our star performer in the kitchen, the KitchenAid 5-Speed Diamond Blender: Create smooth, delicious results with a blender designed to tackle the toughest ingredients. Equipped with a robust motor, special 'Hot Foods' feature, 1.75L BPA-free Diamond pitcher, the KitchenAid Diamond Blender is made for more than just smoothies.
The Artisan Power Blender is another powerful kitchen blender from our range of kitchen stand blenders. It comes with variable speeds ranging from 1-11 to make sure that no matter how tough the ingredients are, the end result is always smooth, just the way you want. Our kitchen blender comes with a jar that is capable of making everything from soups, nut butters to smoothies and sauces. Get inspired with the turn of a dial as you try your hand at unexpected recipes and imaginative dishes.
*Attachments sold separately.



Item added to the compare list, you can find it at the end of this page