Bharwa Shimla Mirch Recipe
A Mediterranean-inspired delight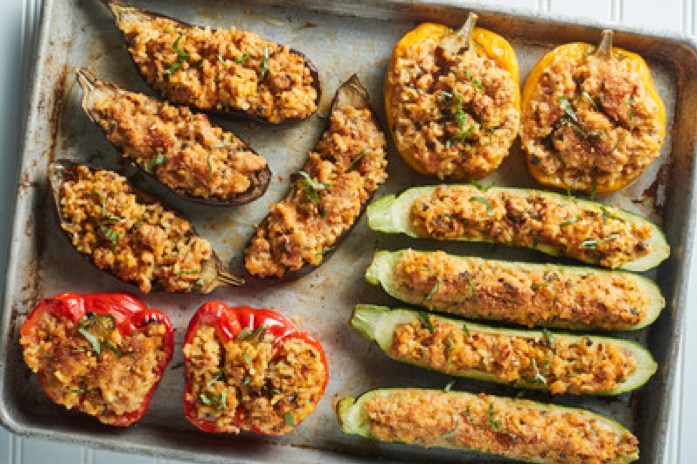 Makes : 6 servings
Prep Time : 30 minutes
Cook Time : 1 hour
Ingredients
454g boneless skinless chicken thighs, cut into 1-in/2.5-cm strip
3 large red, yellow or green bell peppers
3 medium tomatoes, cored and cut into cubes
1 yellow onion, peeled and cut into cubes
3 garlic cloves, peeled
1 teaspoon thyme, finely chopped
⅓ cup fresh basil, finely chopped
⅛ teaspoon chili flake
A pinch of saffron
½ cup +  ¼ cup water, separate, hot (not boiling)
½ teaspoon vinegar
3 teaspoons salt, plus more as needed
¾ cup arborio rice
2 tablespoons olive oil + 1 tablespoon reserved
½ cup breadcrumbs
½ cup finely grated parmesan cheese
Method
Preheat the oven to 375ºF/190ºC. Place the chicken on a parchment-lined sheet pan and freeze for 20 minutes before proceeding. Mix the breadcrumbs and parmesan cheese together in a small bowl and set aside.
Attach your KitchenAid® Food Grinder Attachment fitted with the coarse grinding plate to your KitchenAid® Stand Mixer. Place the bowl under the grinder and place the chicken in the large food tray. Turn the mixer to speed 4 and use the food pusher to feed the chicken into the grinder, one to two pieces at a time, taking care not to force it through. Set aside. Into a separate bowl, grind the tomatoes, onions and garlic together.
Bloom the saffron in ½ cup/118ml hot water with the vinegar in a small bowl and set aside. Heat 2 tablespoons olive oil in a large sauté pan over medium heat. Add the chicken and cook, stirring often, until it is lightly browned. Add the puréed tomatoes, onions, garlic, thyme, basil, salt and chili. Stir together well. Add the saffron water, then the rice, and stir again. Set heat to medium and reduce liquid by half, about 8-10 minutes, stirring often to release the starches in the rice. Taste to adjust seasoning. The rice will only be about half cooked at this point.
Slice the peppers in half lengthwise, leaving as much of the stem intact as possible for presentation. Discard the cores and seeds and sprinkle with salt. Loosely fill the peppers with the chicken and rice mixture. Arrange them in the baking dish and top them with the parmesan breadcrumbs, then drizzle the tops with the remaining olive oil. Add remaining  ¼ cup/60ml water to the baking dish, cover with aluminum foil and bake for 1 hour or until the peppers are soft. Remove the lid and bake for another 15-20 minutes to brown the tops.
CHEF'S NOTES:
For Greek inspired stuffed peppers, add ½ cup feta cheese, 1 teaspoon dried Greek oregano, and substitute 1 teaspoon dill in place of the basil.
Other vegetables to easily core and stuff include white onions, large tomatoes, zucchini or eggplant. Reduce initial cooking time by 20 minutes and check for doneness.

Discover recipes just for you
Join our community of passionate cooks for news, recipes and endless inspiration.
Get exclusive offers on KitchenAid® appliances
Looking to save on great appliances? KitchenAid offers promotions on both large and small kitchen essentials so you can get top quality for less.
Plan your visit

Visit the KitchenAid Experience® Retail Center and discover what makes the KitchenAid Brand a special one.