Brussel Sprouts Caesar Salad with Pine-Hemp Parmesan and Croutons Recipe
The perfect way to swap out your traditional Caesar salad.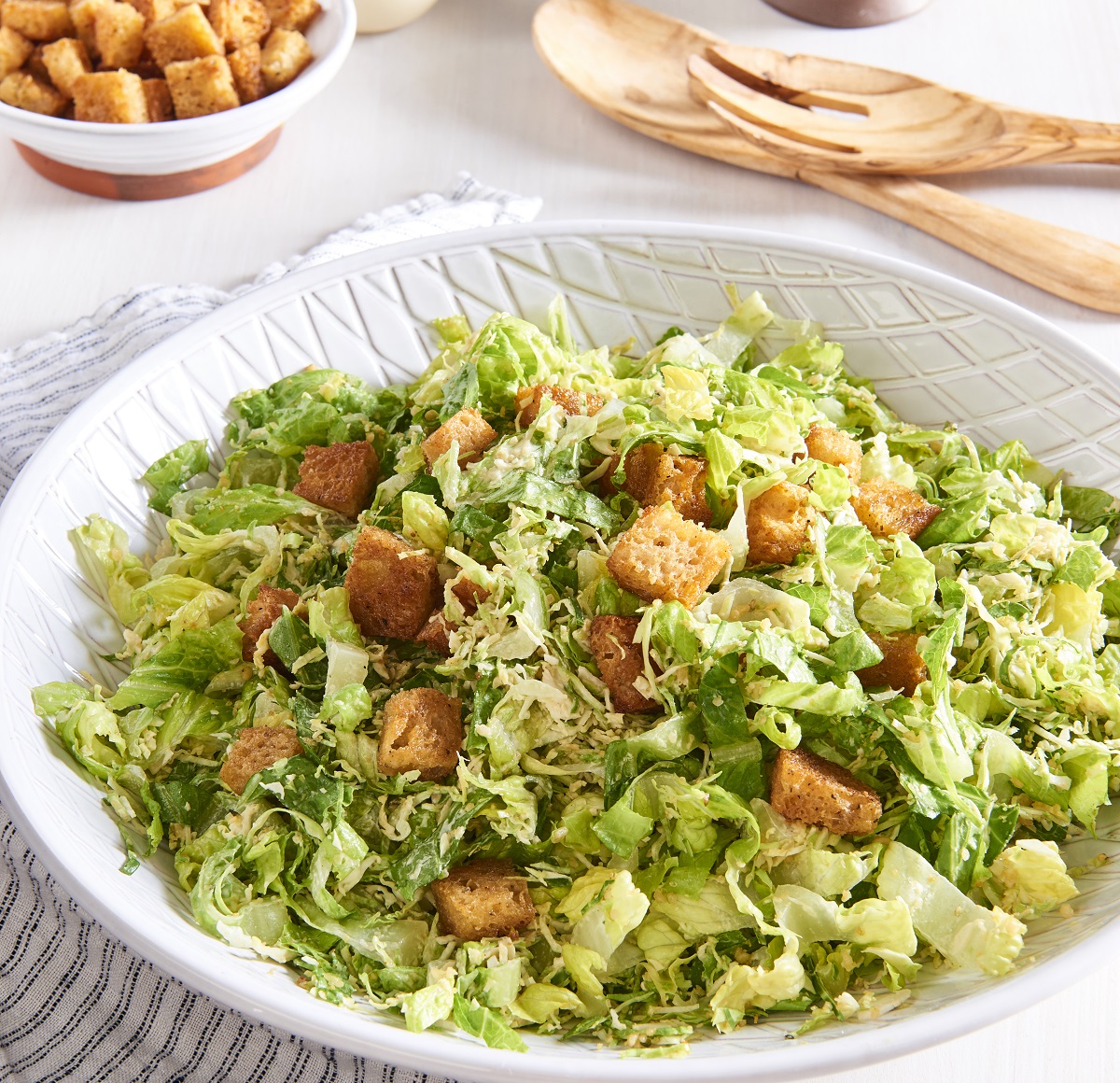 Makes : 6 to 8 servings
Ingredients
Croutons:
1/3 cup (80ml) extra-virgin olive oil, plus more as needed
4 cups (128g) cubed gluten-free or regular sandwich bread (1/2-inch/1cm cubes; 8 slices)
1 teaspoon garlic powder
1 teaspoon onion powder
1/4 teaspoon sea salt
1/4 teaspoon freshly ground black pepper
Pine-hemp parmesan: (makes 1 cup 115g)
1/2 cup (70g) pine nuts
2 tablespoons shelled hemp seeds
2 tablespoons nutritional yeast
1/2 teaspoon garlic powder
1/4 teaspoon sea salt
Dressing: (makes 1 3/4 cups (420ml))
1/2 cup (120ml) extra-virgin olive oil
1/2 cup (120ml) filtered water
1/4 cup (60ml) fresh lemon juice
1/2 cup (70g) raw unsalted cashews
1 1/2 tablespoons white miso paste
1 tablespoon drained and rinsed capers
1 1/2 teaspoons gluten-free vegan Worcestershire sauce
1 1/2 teaspoons Dijon mustard
3/4 teaspoon sea salt
1/4 teaspoon freshly ground black pepper
2 medium cloves garlic
Salad:
10 cups (500g) chiffonaded romaine hearts (cut into ribbons)(about 5 hearts)
5 cups (40g) shaved Brussels sprouts
Method
To make the croutons, preheat the oven to 300 ̊F/150 ̊C, and line a large baking sheet with parchment paper.
In a small bowl, whisk together the olive oil, garlic and onion powders, salt, and pepper until well combined. Place the bread cubes in a bowl and drizzle the oil mixture over the top, and toss well to coat all bread pieces evenly. You may need more olive oil depending on how thirsty your bread is. Transfer the coated bread cubes to your prepared baking sheet. Bake for about 10 minutes, toss the cubes, and bake for another 10 minutes until golden brown and crispy. Remove the croutons from the oven, and let them cool.
To make the pine-hemp parmesan, throw the ingredients into a food processor fitted with the s blade, and process for 5 to 10 seconds until the texture resembles Parmesan cheese.
To make the dressing, throw all of the ingredients into your KitchenAid blender container, secure the lid, and blast on high for 30 to 60 seconds, until smooth and creamy.
In a large salad bowl, mix together the romaine lettuce and Brussels sprouts, and add the dressing gradually to your preference.  Add half of the pine-hemp parmesan and half of the croutons.
Serve family style, or portion out the salad onto plates, and top with additional parmesan and croutons. Pass remaining dressing, croutons, and parmesan at the table.
Discover recipes just for you
Join our community of passionate cooks for news, recipes and endless inspiration.
Get exclusive offers on KitchenAid® appliances
Looking to save on great appliances? KitchenAid offers promotions on both large and small kitchen essentials so you can get top quality for less.
Plan your visit

Visit the KitchenAid Experience® Retail Center and discover what makes the KitchenAid Brand a special one.