Carrot Cake Recipe
A healthy carrot cake recipe for your family.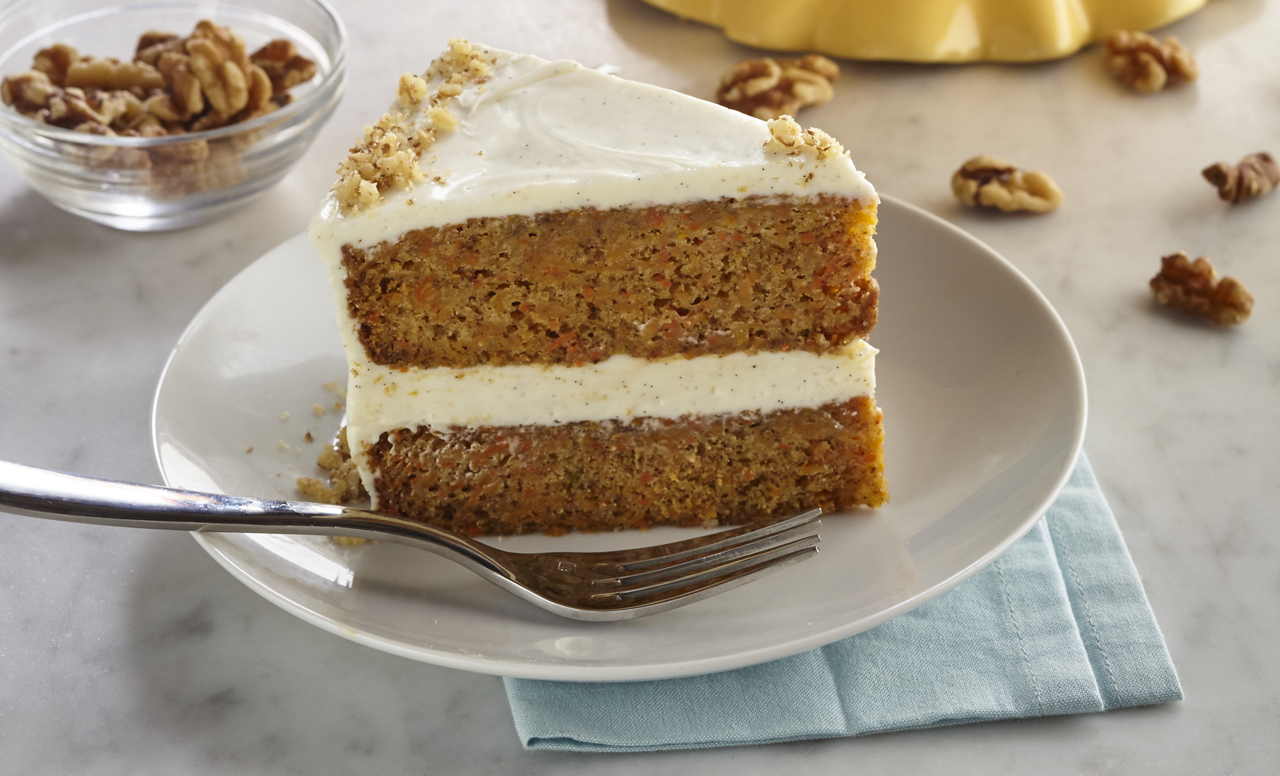 Makes : 1 cake
Prep Time : 20 minutes
Cook Time : 30 minutes
Ingredients
Cake
295-355 ml melted coconut oil plus more for greasing pan
30 ml maple syrup
240 g applesauce (sweetened)
160 g coconut sugar
3 large eggs, at room temperature
5 ml vanilla extract
7.5 ml sea salt
7.5 ml baking soda
7.5 ml baking powder
5 ml ground cinnamon
162 g whole wheat flour
64 g coconut flour
165 g carrots (about 3 carrots), cut to 11.5 cm lengths
Vegan Cream cheese frosting
115 g vegan butter, softened to room temperature
1- 230 g vegan cream cheese, slightly softened
250 g sifted powdered sugar
5 ml vanilla extract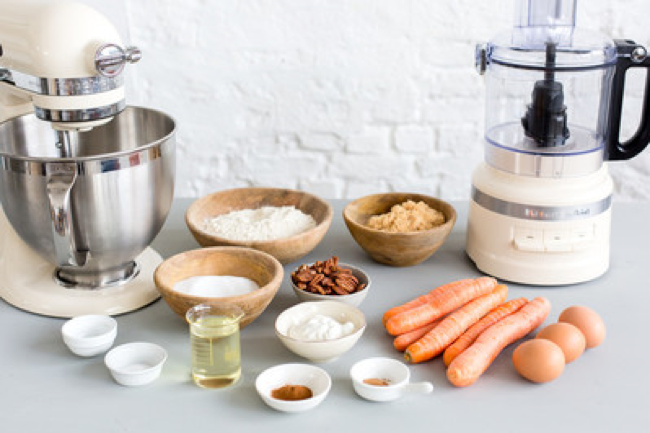 Method
Preheat oven to 176C. Grease 2- 15 cm round cake pans and line bottoms with parchment paper.
Attach Fresh Prep Slicer/Shredder Attachment to KitchenAid® Stand Mixer, and attach the coarse shredding blade. Position large bowl under attachment to catch shredded carrots. Fill feed tube with carrots. Turn stand mixer to speed 6 and process. Repeat remaining carrots, set aside.
In a large bowl, place all wet ingredients except carrots and whisk together until fully combined. Add in remaining dry ingredients and whisk together, fold in carrots. If batter is too thick, add in more coconut oil 60 ml at a time. Divide batter in half and pour into cake pans. Bake for 25-30 minutes or until a cake tester or toothpick comes out clean. Cool cakes in pans for 15 minutes and flip onto cooling racks and cool completely.
Frosting
In a large bowl, beat butter, cream cheese, and vanilla. Slowly add in powdered sugar 100 g at a time. Beat until fully combined.
When cake layers are cool, frost the top of the bottom layer of cake. Then place the 2nd layer on top and frost top and sides.
Discover recipes just for you
Join our community of passionate cooks for news, recipes and endless inspiration.
Get exclusive offers on KitchenAid® appliances
Looking to save on great appliances? KitchenAid offers promotions on both large and small kitchen essentials so you can get top quality for less.
Plan your visit

Visit the KitchenAid Experience® Retail Center and discover what makes the KitchenAid Brand a special one.