Crêpes Oscar Recipe
Not the regular sweet ones but deliciously savoury cheese induced crepes.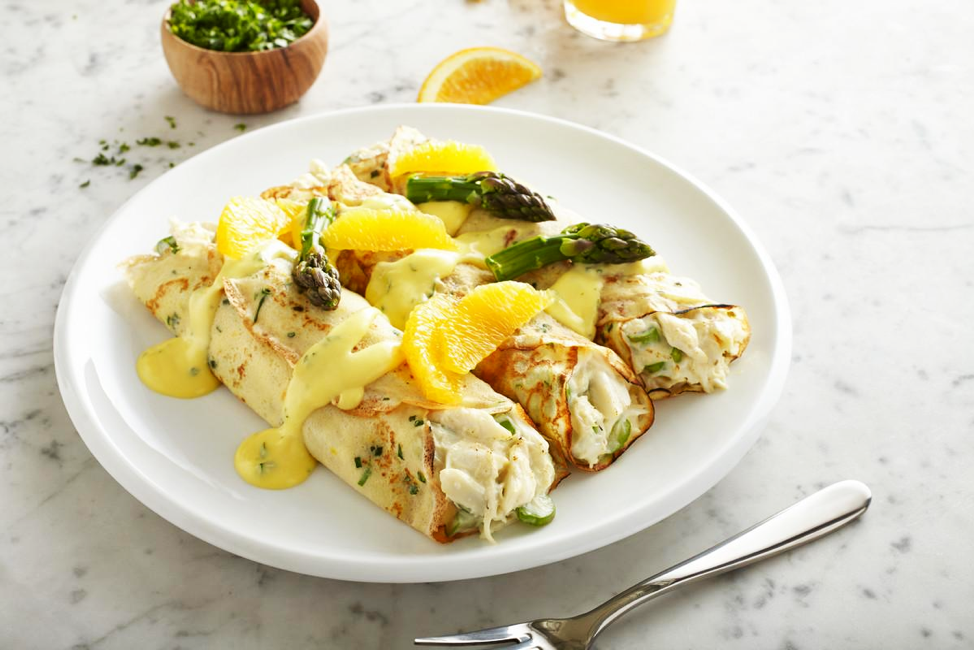 Makes : 4-6 servings
Prep Time : 40 min. plus refrigerating
Cook Time : 35 min.
Ingredients
450g fresh asparagus
120g all-purpose flour
3 whole eggs
375ml milk
45g unsalted butter, melted
12g kosher salt, divided
10g chopped fresh chervil
5g chopped fresh chives
5g chopped fresh parsley
5g grated orange peel
225g cream cheese softened
30ml fresh orange juice
2 egg yolks
7g Dijon mustard
450g jumbo lump crabmeat
60g unsalted butter
75g fresh orange segments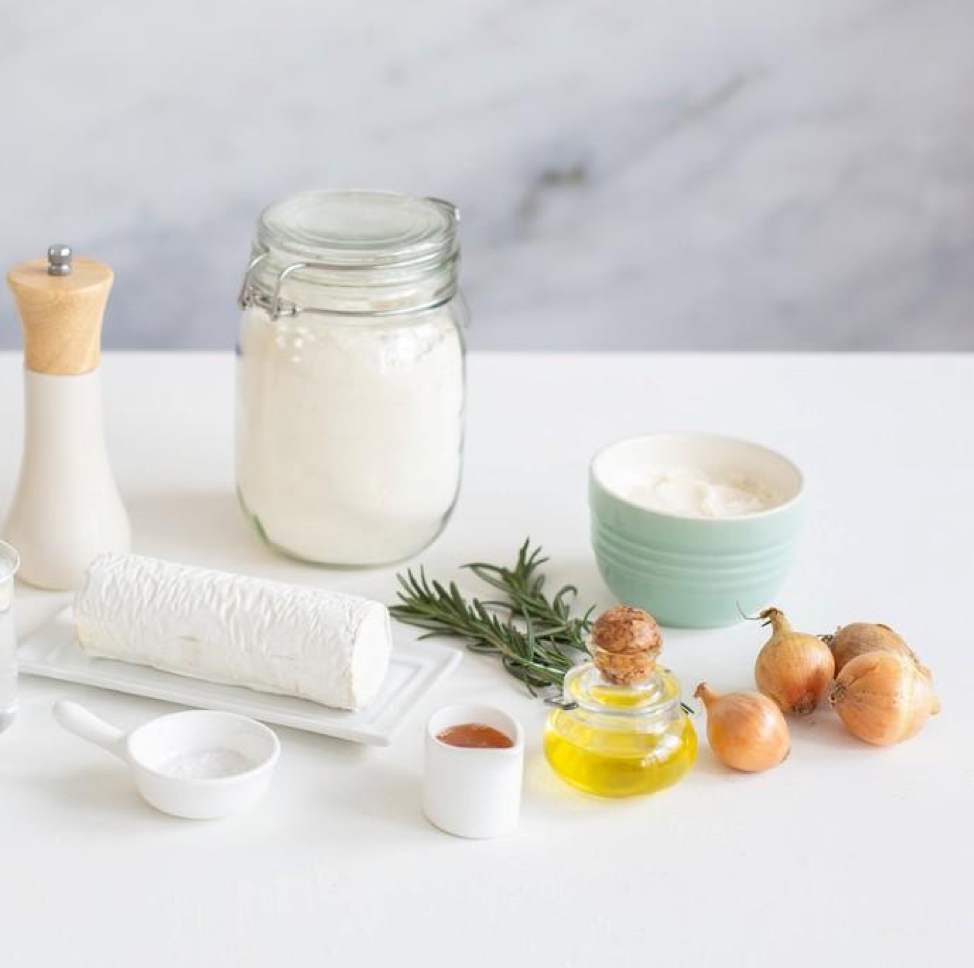 Method
Bring a large pot of water to a boil.  Add asparagus. Cook 2 minutes, drain, then plunge into a bowl of ice water to stop the cooking process. Cut off asparagus tips and reserve for garnish. Chop stalks; set aside.
Combine flour, whole eggs, milk, butter and 1 teaspoon salt in the bowl of KitchenAid® Artisan Mini Stand Mixer. Attach the Bowl and Whisk to the mixer. Turn to Speed 1 and mix 30 seconds. Increase to Speed 6 and mix 1 minute or until smooth. Stop the mixer and add chervil, chives, parsley and orange peel. Turn to Speed 1 and mix for 20 seconds or until combined. Refrigerate batter 1 hour.
Heat 8-inch non-stick pan over medium heat. Pour scant 1/4 cup batter into pan and tilt pan in all directions to spread batter evenly. Cook 1 minute or until crepe releases itself from pan when shaken. Carefully flip the crepe over and cook 30 seconds or until centre is set. Transfer to parchment paper or clean kitchen towel to cool while preparing remaining crepes. Repeat with remaining batter, stirring batter between crepes. Stack crepes between single layers of waxed paper to prevent sticking.
Add cream cheese, orange juice, egg yolks, 1 teaspoon salt and mustard to clean Bowl of KitchenAid® Artisan Mini Stand Mixer. Attach Bowl and Scraper Flat Paddle to the mixer. Turn to Speed 1 and mix 30 seconds. Increase to Speed 4 and mix 1 minute or until mixture is smooth. Stop the mixer and scrape side and bottom of Bowl. Turn to Speed 4 and mix 20 seconds. Stop the mixer and add chopped asparagus stalks and crabmeat. Turn to Speed 1 and mix 15 seconds or until well combined, leaving some large pieces of crab.
Preheat oven to 350°F. Spoon ¼ cup crab mixture in a line across the middle of each crepe; roll-up. Arrange crepes, seam-side down, in a greased 13x9-inch baking dish. Bake 15-20 minutes or until crepes just begin to brown.
Meanwhile, heat butter in the skillet on medium heat until beginning to brown. Add orange segments and reserved asparagus tips; cook until heated through. Spoon mixture over crepes before serving.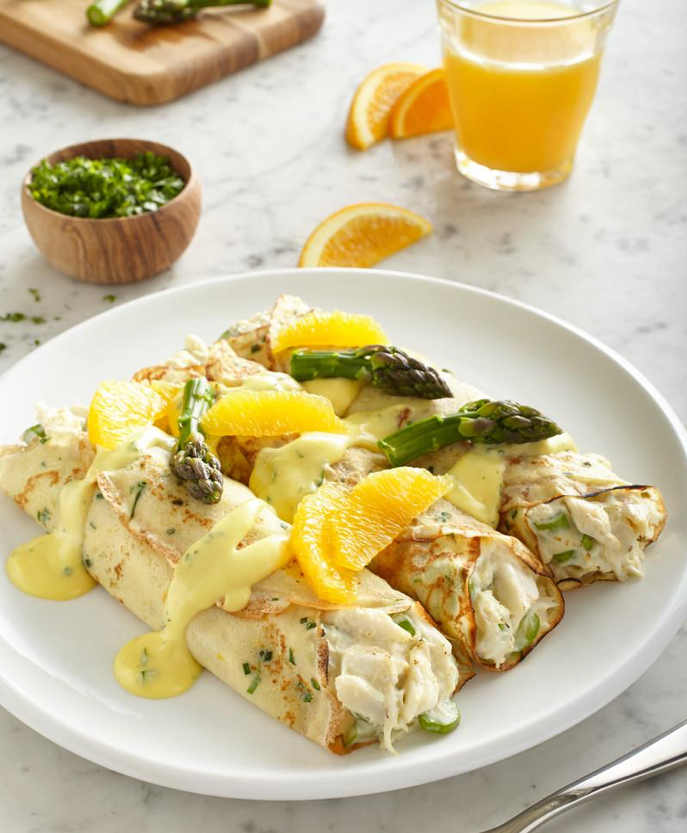 Discover recipes just for you
Join our community of passionate cooks for news, recipes and endless inspiration.
Get exclusive offers on KitchenAid® appliances
Looking to save on great appliances? KitchenAid offers promotions on both large and small kitchen essentials so you can get top quality for less.
Plan your visit

Visit the KitchenAid Experience® Retail Center and discover what makes the KitchenAid Brand a special one.