Curried Coconut Soup with Vegetables Recipe
Fit from every sip!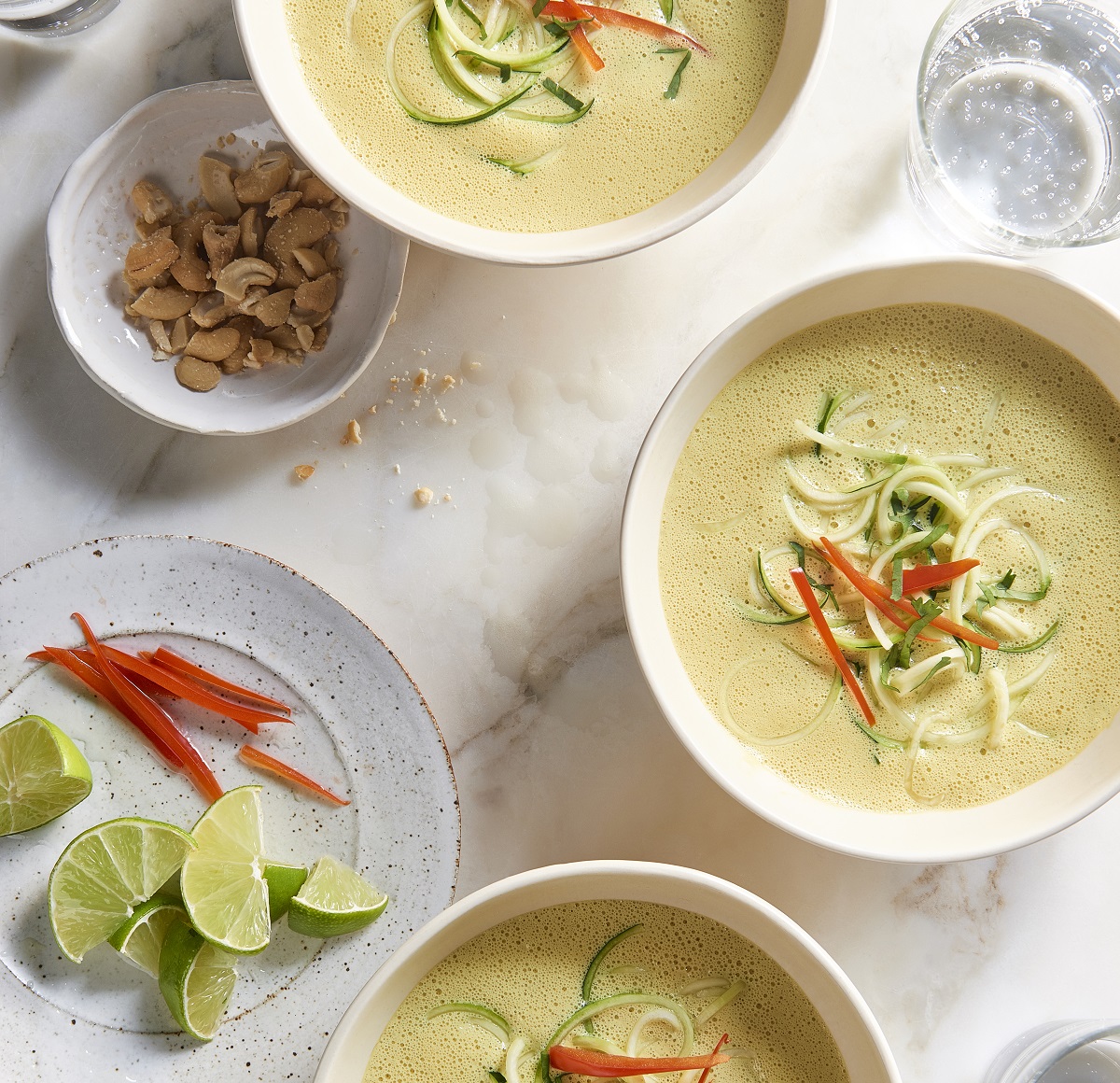 Makes : 4 servings
Ingredients
Soup:
1 3/4 cups (420ml) vegetable broth or filtered water
1 3/4 cups (420ml) full–fat canned coconut milk (1 (13.5/400ml)can)
1 cup (140g) raw unsalted cashews
2 tablespoons coconut oil
2 tablespoons finely diced yellow onion (1 (1/8th-inch slice)
1 tablespoon fresh lime juice
1 tablespoon wheat-free tamari
1 tablespoon minced fresh ginger
2 teaspoons sugar or natural sweetener
1 teaspoon hot curry powder
1/2 teaspoon ground turmeric
1/2 teaspoon garam masala
1/2 teaspoon ground yellow mustard
1/2 teaspoon ground cumin
1/2 teaspoon sea salt
1/8 teaspoon cayenne pepper
1 medium clove garlic
Toppings:
1 small zucchini, spiralized into noodles
1 small red bell pepper, julienned
1/2 cup (14g) finely chopped cilantro
1/2 cup (70g) crushed raw or toasted cashews
1 medium lime, cut into quarters
Method
Place all of the soup ingredients into the blender jar of the KitchenAid Blender. Secure the lid and set the blender to the Adapti-Blend™ Soup program. Blend until the machine turns itself off. Alternatively, blend for about 5 minutes, starting on speed 1 and gradually increasing to speed 10.
Soup will come out of the Blender hot. Divide the soup evenly between four soup bowls, and add equal amounts of zucchini noodles, bell pepper, cilantro, and nuts.  Serve with lime wedges, and enjoy immediately.
Discover recipes just for you
Join our community of passionate cooks for news, recipes and endless inspiration.
Get exclusive offers on KitchenAid® appliances
Looking to save on great appliances? KitchenAid offers promotions on both large and small kitchen essentials so you can get top quality for less.
Plan your visit

Visit the KitchenAid Experience® Retail Center and discover what makes the KitchenAid Brand a special one.