Indian Chickpea Crepes Recipe
Have more fun in the kitchen with this healthy recipe!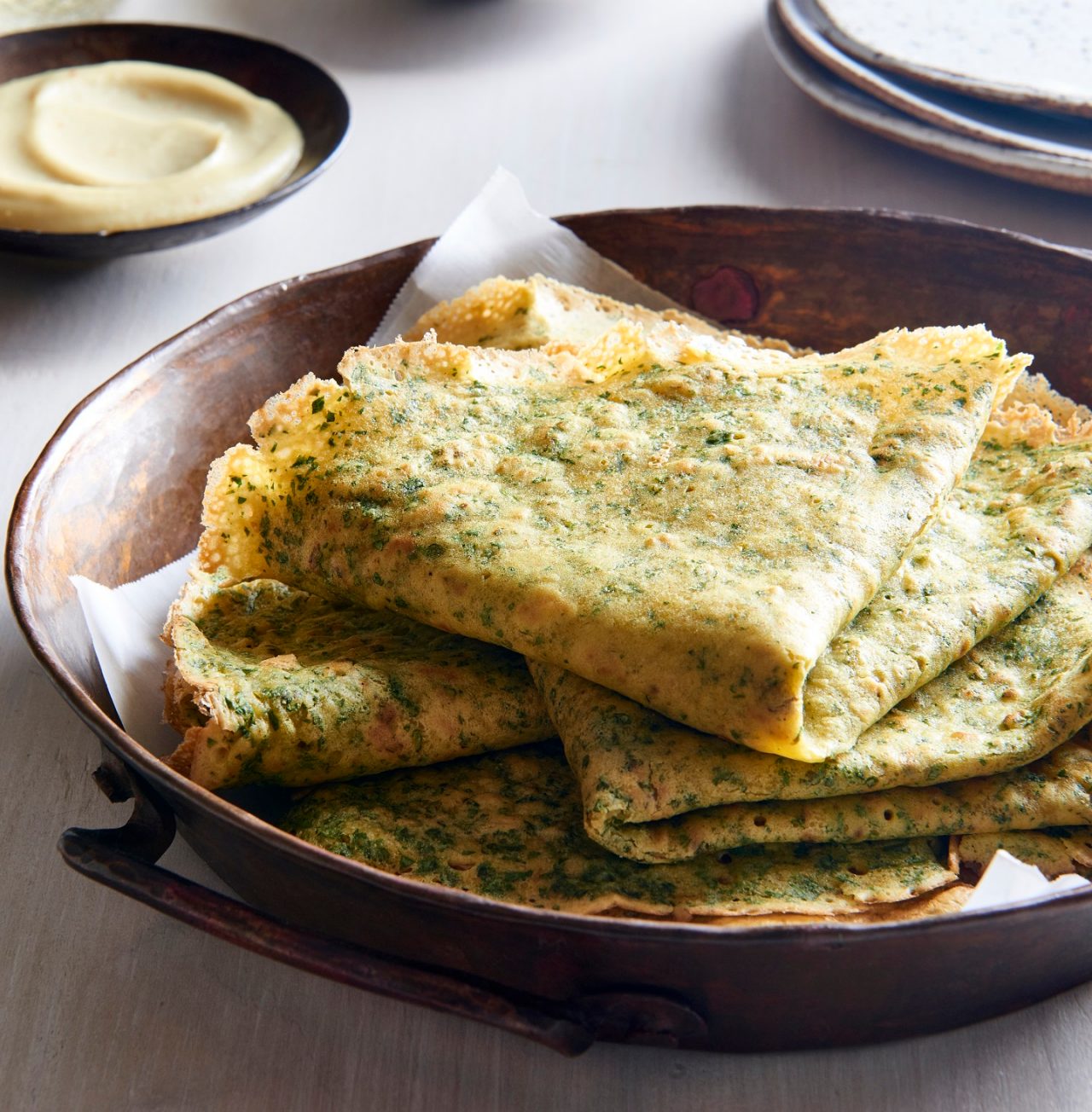 Makes : 6 servings
Preparing Time : 20 minutes
Cook Time : 10-15 minutes
Ingredients
1 1/4 cups lukewarm filtered water (*see note)
2 tablespoons safflower, grape seed, or olive oil, plus more for cooking
1 cup (125g) besan (gram flour) or chickpea (garbanzo bean) flour (*see note)
3/4 teaspoon sea salt
1/2 teaspoon garlic powder
1/2 teaspoon onion powder
1/4 teaspoon hot yellow curry powder
1/8 teaspoon cayenne pepper
1/8 teaspoon Indian black salt (optional)
1/2 cup (19g) firmly packed fresh cilantro leaves
Method
Pour the water and oil into your KitchenAid Power Blender container, and then add the flour and the dry ingredients, except the cilantro. Process on variable speed 3 for about 5 seconds just until the mixture is combined with no lumps. (You don't want to over process.) Add the cilantro leaves, and process on variable speed 3 for about 3 seconds just until the cilantro leaves are roughly chopped, but not fully blended. Transfer the batter to a jug, and let the batter sit for 10 to 15 minutes to thicken slightly.
Using a paper towel, very lightly coat an 8-inch nonstick crepe pan or frying pan with about 1/2 teaspoon of oil. Heat the pan over low to medium-low heat, depending on your stove. Lift the pan off the heat and pour in a scant 1⁄3 cup of the batter, quickly swirling the pan to allow the mixture to evenly coat the bottom of the pan.
Return the pan to the heat and cook the crepe for about 2 minutes, until bubbles form on the top and the sides lift easily from the pan. Gently flip the crepe with a spatula and cook for about 1 minute more, until lightly browned.
Transfer the crepe to a plate. Repeat this process with the remaining batter, lightly greasing the pan with paper towel between each crepe. Stack the finished crepes on top of each other so that they soften and remain pliable.
Serve with curries, chutneys, dips, or stuffed with vegetables.

*Note: If using chickpea (garbanzo) flour in place of besan (gram) flour, use 1 1/3 cups water.

Prep Notes: You could use 1/2 teaspoon curry powder and 1/4 teaspoon cayenne to make these spicy snacks on their own.
Discover recipes just for you
Join our community of passionate cooks for news, recipes and endless inspiration.
Get exclusive offers on KitchenAid® appliances
Looking to save on great appliances? KitchenAid offers promotions on both large and small kitchen essentials so you can get top quality for less.
Plan your visit

Visit the KitchenAid Experience® Retail Center and discover what makes the KitchenAid Brand a special one.