Mint Cilantro Chutney Recipe
A healthy dip that goes with everything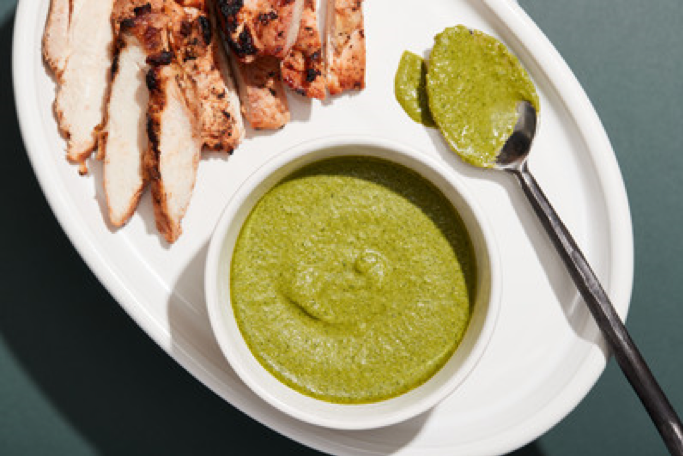 Makes : 16 servings
Prep Time : 9 minutes
Blend Time : 30 seconds
Ingredients
1/2 cup filtered water
2 cups firmly packed cilantro leaves
1 cup firmly packed mint leaves
1/4 cup raw unsalted cashews
1 small green chile ribbed and seeded, plus more to taste
2 medium cloves garlic, peeled
2 tablespoons fresh lime juice, plus more to taste
2 tablespoons diced red onion
2 teaspoons peeled and minced fresh ginger, plus more to taste
1 teaspoon apple cider vinegar
1 teaspoon sea salt
1/2 teaspoon ground cumin
Method
Place all of the ingredients into the blender jar of your KitchenAid® Artisan Power Plus Blender. Secure lid. Turn to speed 1 and gradually increase to speed 5. Blend until smooth and creamy, about 30-45 seconds. Use a spatula to scrape the sides of the jar as needed. Adjust the lime juice, ginger, and chile to taste.
CHEF'S NOTES:
Recipe yields 1 cup of chutney.
Discover recipes just for you
Join our community of passionate cooks for news, recipes and endless inspiration.
Get exclusive offers on KitchenAid® appliances
Looking to save on great appliances? KitchenAid offers promotions on both large and small kitchen essentials so you can get top quality for less.
Plan your visit

Visit the KitchenAid Experience® Retail Center and discover what makes the KitchenAid Brand a special one.