Orange Honey Sorbet Recipe
Dive into the icy freshness of this sweet treat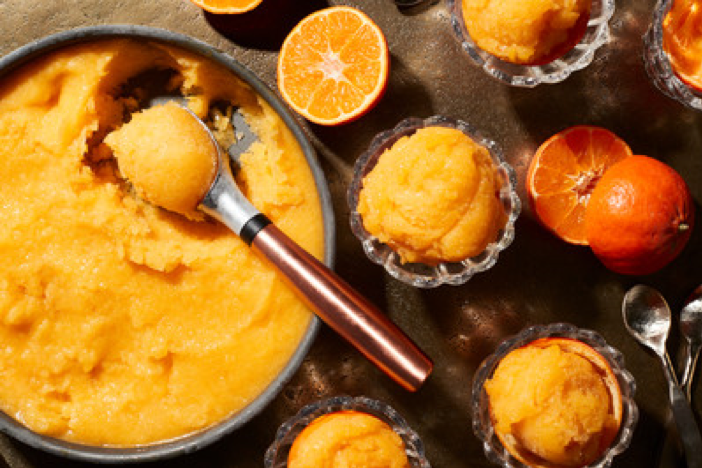 Prep Time : 10 minutes
Blend Time : 30 seconds
Chill Time : 6 hours to overnight
Total Time : < 10 minutes + freezing time
Ingredients
750 ml orange juice (12-15 oranges)
1 Tablespoon orange zest
1 cup corn syrup
¼ cup honey
2 Tablespoons Cointreau or Grand Marnier
½ vanilla bean
Pinch of sea salt
Method
Peel the oranges, take out deseeded segments and put it in the KitchenAid® Artisan Power Blender. Sieve until you have 24 oz (750 ml) of juice.
Add the remaining ingredients. Turn to speed 4 and blend for 20 seconds. Pour mixture into an 8" metal cake pan and set in the freezer. Use a pastry spatula to stir the mixture after 1 hour of freezing, and again after 2 hours of freezing - being sure to scrape along the sides of the pan where it's coldest (and will freeze first). Then, allow the sorbet to set for at least 6-8 hours, or until set enough to be scoopable with an ice cream scoop. (For best texture, allow to freeze overnight.)
Discover recipes just for you
Join our community of passionate cooks for news, recipes and endless inspiration.
Get exclusive offers on KitchenAid® appliances
Looking to save on great appliances? KitchenAid offers promotions on both large and small kitchen essentials so you can get top quality for less.
Plan your visit

Visit the KitchenAid Experience® Retail Center and discover what makes the KitchenAid Brand a special one.