Rava Gulab Jamun Recipe
The fitting end to a meal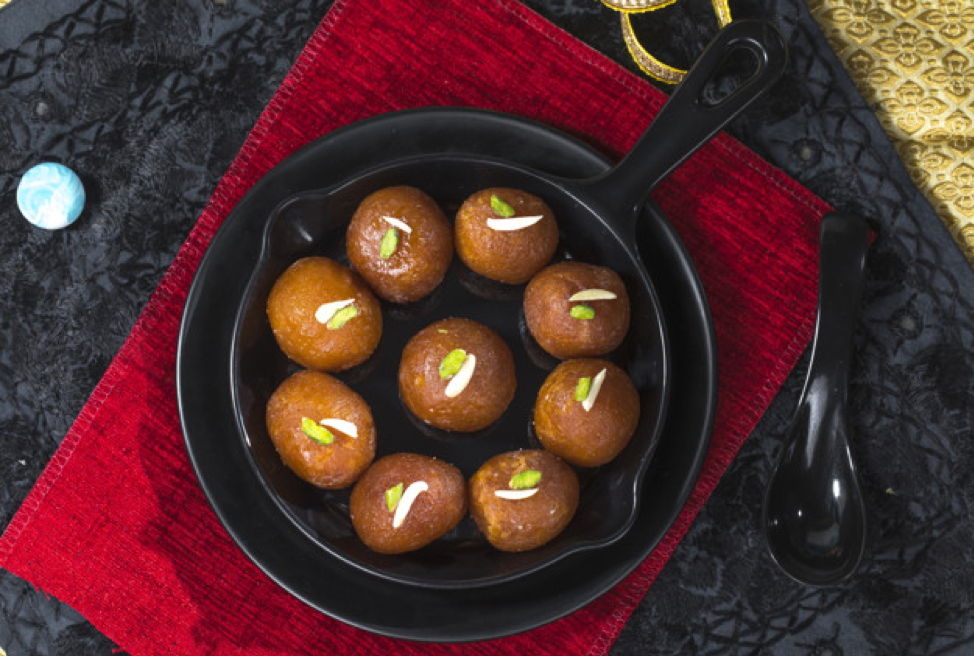 Makes : 15 servings
Prep Time : 10 minutes
Cook Time : 30 minutes
Ingredients
FOR SUGAR SYRUP
2 cup sugar
2 cup water
¼ tsp saffron / kesar
¼ tsp cardamom powder
1 tsp rose water
FOR GULAB JAMUN
1 cup suji / rava / semolina, fine
1 tsp ghee / clarified butter
3 cup milk
2 tbsp milk powder
2 tbsp sugar
Oil or ghee for frying
Method
In a large wok, heat 1 tsp ghee and add 3 cup milk. Add 2 tbsp milk powder and 2 tbsp sugar. Stir well and get the milk to a boil.
Keep the flame on low, add 1 cup roasted rava stirring continuously. Cook until the mixture forms a lump and separates the pan.Cool the mixture slightly and transfer to a bowl of KitchenAid® Stand Mixer.
Knead this dough for at least 2 minutes, or until the dough is smooth and soft.
Prepare small balls and simultaneously heat the oil / ghee on medium flame. When the oil / ghee is moderately hot, fry the jamuns.
Allow the balls to cool for 2 minutes, and drop the hot gulab jamuns into the warm sugar syrup. Soak in sugar syrup and rest for 2 hours.
Finally, the suji gulab jamun has doubled in size. serve warm with ice cream or cold.
Discover recipes just for you
Join our community of passionate cooks for news, recipes and endless inspiration.
Get exclusive offers on KitchenAid® appliances
Looking to save on great appliances? KitchenAid offers promotions on both large and small kitchen essentials so you can get top quality for less.
Plan your visit

Visit the KitchenAid Experience® Retail Center and discover what makes the KitchenAid Brand a special one.