Green Tea Macarons Recipe
A classic French preparation with a refreshing tea fragrance.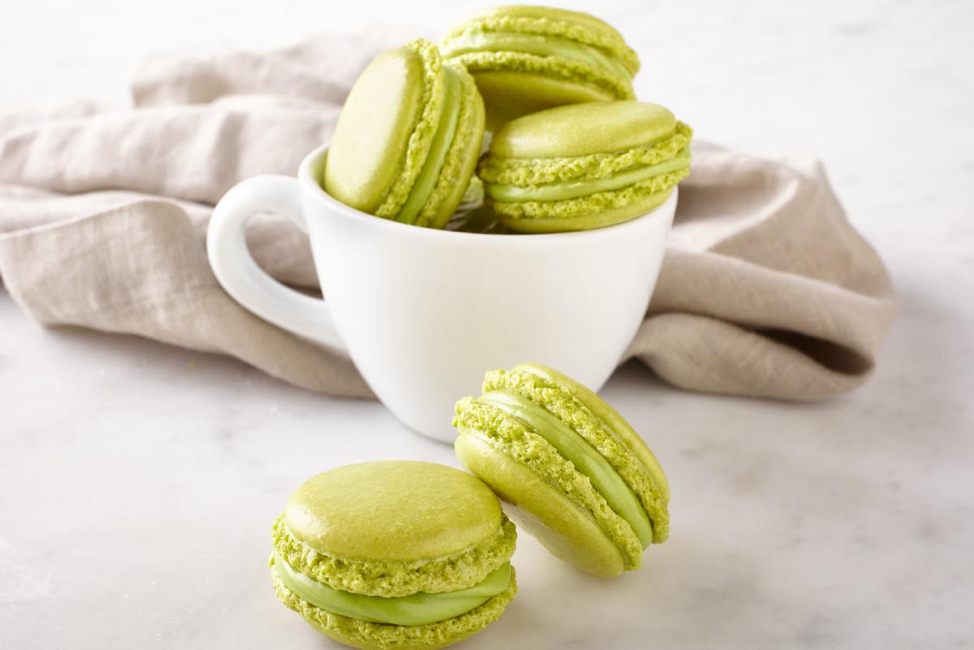 Makes : 30 sandwiched cookies
Portion Size : 2 pieces
Prep Time : 30 min.
Bake Time : 8 min.
Ingredients
250g  powdered sugar sifted
115g almond flour
10g matcha green tea powder sifted
3 egg whites
15g granulated sugar sifted
Filling Ingredients
175g ready-to-use cream cheese icing
5g matcha green tea powder
Method
Preheat oven to 400°F (or 375°F for convection oven). Combine powdered sugar, almond flour and 2 teaspoons green tea powder in medium bowl; set aside.
Add egg whites and granulated sugar to the bowl of KitchenAid® Artisan Mini Stand Mixer. Attach bowl and Wire Whip to the mixer. Gradually turn to Speed 10 and whip until egg whites form stiff peaks. Remove Wire Whip and replace with Flat Beater.  Add almond mixture. Turn to Speed 1 and mix until combined.
Transfer mixture to a piping bag fitted with a medium round tip. Line baking sheets with parchment paper or silicone mats. Pipe batter onto sheets in ½-inch-diameter circles, 1-inch apart. The batter should yield about 60 cookies. Let stand 10 minutes before baking.
Bake 8 to 10 minutes or until crisp and lightly browned. Cool completely on wire rack.
To make filling:
Add icing and 1 teaspoon green tea powder to mixer bowl. Attach bowl and Flat Beater to the mixer. Turn to Speed 2 and mix 2 minutes or until well blended.
Assemble macarons using about 1 teaspoon filling for each cookie sandwich. Press together gently.
Our tip : 
To make other flavour variations, prepare cookies as directed, omitting green tea powder.
Fill with citrus curd, chocolate ganache, or your favourite fruit preserves.
Discover recipes just for you
Join our community of passionate cooks for news, recipes and endless inspiration.
Get exclusive offers on KitchenAid® appliances
Looking to save on great appliances? KitchenAid offers promotions on both large and small kitchen essentials so you can get top quality for less.
Plan your visit

Visit the KitchenAid Experience® Retail Center and discover what makes the KitchenAid Brand a special one.