ALL HAND BLENDERS – IMMERSION BLENDERS
Sorry, there are no products available with this criteria.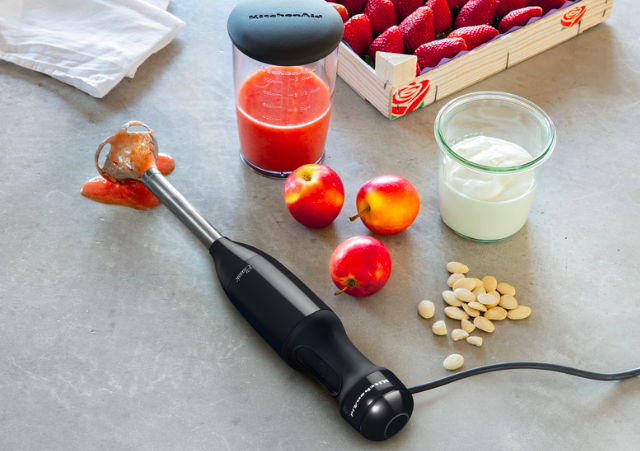 ONE TOOL FOR GREAT BLENDS
The KitchenAid 2-Speed Hand Blender is one countertop appliance with limitless options and versatility. You can easily change between different types of blades: from ice crushing to chopping cooked meats and frothing milk. This Hand Blender is such a dynamic tool, making previously complicated and time-consuming recipes regular favourites in your culinary repertoire. Whether you want to make soups, smoothies, sauces or chutneys, the KitchenAid Hand Blender will be your perfect cooking assistant.
MAKE MORE THAN PUREES
Briskly dance from dish to dish as you blend and mix, enjoying the freedom and creativity that the Hand Blender offers you. The KitchenAid 2-Speed Hand Blender is designed for makers who are Passionate about fresh and healthy eating as healthy habits in our days bring a positive attitude towards life itself.
THE POWER OF STAINLESS STEEL
Enjoy more fruits and vegetables the way you most like. Blend at ease with our 2-Speed Hand Blender that is easy to handle and quiet. The stainless steel blade is designed to perform multiple tasks from expertly crushing ice for your favourite beverages like cold coffee, aam panna, mango lassi to i chopping cooked meats and frothing milk for that morning glass of badam milk!
BLEND WITH CONVENIENCE
This Hand Blender comes with a 20.3 cm removable twist-lock stainless steel arm with fixed bell blade assembly which provides exceptional control to mix all ingredients with ease and a 700 ml BPA-free graduated blending jar with lid that effectively reduces the need to use multiple measuring cups or mixing bowls. Easily blend, serve and store food in a single container!