ALL STAND MIXER ATTACHMENTS AND ACCESSORIES
Sorry, there are no products available with this criteria.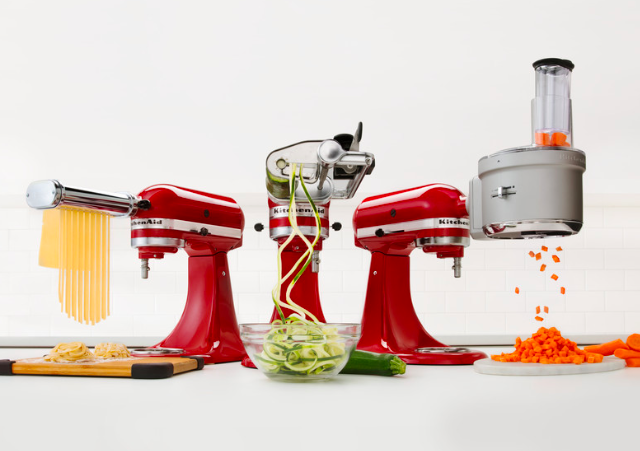 VERSATILITY IN THE KITCHEN
KitchenAid range of Kitchen Stand Mixers are as dynamic as they come. With a power hub that fits over 10 available attachments, makers around the world can dive into indulgent dishes made from scratch.
AN ATTACHMENT FOR EVERY MOOD
Whether you are craving for fresh pasta or fluffy breads; healthy vegetable noodles or sinful chocolate cakes; breakfast staples such as pancakes, crepes and waffles or dinner specials like loaded pizzas, you can make everything by hand with the assistance of KitchenAid Stand Mixer and Fresh Prep attachments.
FRESH PASTA, EVERYDAY
The KitchenAid Pasta and Grain Stand Mixer Attachments aid you to make your favourite breads and pastas fresh and healthy from the beginning. From fettuccine to penne, from focaccia to sourdough, cook it all!
CREATE FLAWLESS SWEET TREATS
Our KitchenAid Stand Mixer Attachments also help you make decadent desserts. From homemade Ice Cream to chocolate covered strawberries, the KitchenAid Stand Mixer paired with the Ice Cream Maker or Precise Heat Mixing Bowl helps you to create your favorite treats at home.
GRIND TOGETHER THE TOUGHEST INGREDIENTS
If you're craving for freshly prepared galouti kebabs or malai chicken kofta or just some American breakfast sausages, the KitchenAid Food Grinder and accessories will allow you to select premium ingredients to create delicious and wholesome meals.
If you love cooking, These unique KitchenAid Stand Mixer Attachments will act as the perfect cooking assistants so that you can cook everything you want and more!