Baking Pans & Accessories
Sorry, there are no products available with this criteria.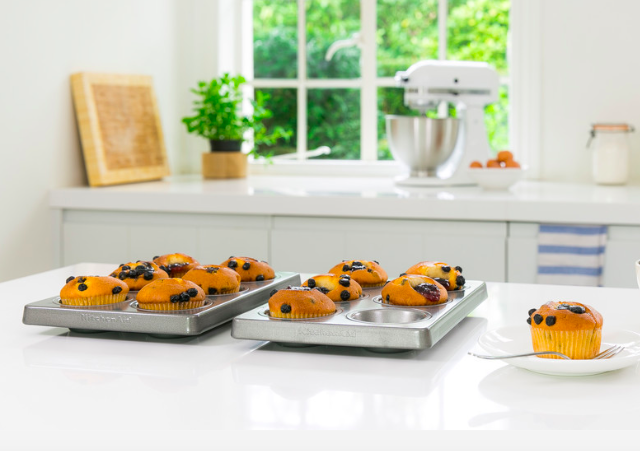 DIVERSE COLLECTION
KitchenAid range of Bakeware is every maker's dream come true! The collection contains everything any kitchen needs from roasting trays to cake tins - any cooking enthusiast will be spoilt for choice with the artistic functionality of KitchenAid range of Bakeware.
PRACTICAL AND DISHWASHER SAFE
The nonstick coating on our bakeware is not only long-lasting, but both PFOA & PTFE free, making it durable and extremely reliable bakeware. Whether your recipe calls for microwaving it, freezing it, baking it in the oven or sticking it in the dishwasher, our KitchenAid Ceramic Bakeware does it all with style.
BAKE LIKE A PRO
Create delicious meals with the versatile range of KitchenAid Bakeware collection of baking pans and accessories. If you enjoy baking, roasting or broiling, KitchenAid offers baking pans, ceramic bakeware and other accessories to help you create your favorite treats. Made with quality and durability in mind, our bakeware includes pans coated with a non-stick, PFOA- and PTFE-free coating that makes it easier to remove baked goods and clean up once you're done. Our ceramic bakeware is made to handle both freezer and oven temperatures with ease so you can make and store casseroles, baked pastas, brownies and other favorites. Browse our complete collection of baking accessories to find just what you need.
Need to stir things up? Our hand mixers are a great option for mixing batters and frostings to perfection.